Will Motorola kick off its tablet just before Super Bowl weekend?
3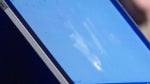 We
recently showed you
the Motorola tablet being shown off. This, of course, is the same tablet that Google VP Andy Rubin carried around during last Monday's D: Dive into Mobile conference. Those who have seen the device are excited about it, especially given the Android 3.0 OS aka
Gingerbread
Honeycomb (thanks,
vinsterdamus
!) that will be powering the tablet, and the NVIDIA Tegra 2 dual-core processor under the hood.
If this tablet were being considered as a draft pick by NFL scouts, they would all look at the numbers and agree that this is a first-round pick. And speaking of the NFL (see how we made that transistion), many of you know that Motorola is the official mobile carrier of the of the league and with the Super Bowl scheduled for February 6th, what better time to get eyeballs watching your product than with a launch timed around the Super Bowl game.
The device is expected to be available for Verizon in both a CDMA or LTE version, or as a single CDMA/LTE combo. Throw in the fact that 38 cities-many with an NFL team-will have Verizon's LTE capabilities well before the Championship game, and many Football fans could be watching the game in 4G on their Motorola tablet.
With Motorola Mobility's first CES event as an independent company coming January 5th, CEO Sanjay Jha could very well be looking to surprise the defense by hooking up on a Super Bowl-Motorola tablet announcement that will get the crowd buzzing for the solid month before the Super Bowl kicks off.
source:
HowardForums
via
AndroidandMe