Why it's OK for the iPhone to have the same UI, and why it isn't for Windows Phone
99+
This article may contain personal views and opinion from the author.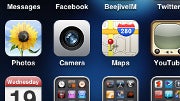 When it comes to iOS, we all agree that the UI of the platform needs a facelift in order to become fresh, more dynamic and functional. But guess what, Windows Phone manufacturers actually need more change in their UIs than Apple.
Exclusivity
If there's one thing that's certain in life, that should be the fact that iOS is exclusive to Apple. And since it's only Apple that makes iPhone and iPads, it's somewhat normal if its products use the same UI. We don't say that it's cool if a UI almost doesn't change over the course of 5 years, but what we're saying is that it's more or less normal if it remains very similar, or even the same (in case it's a good UI, that is). What isn't normal in this industry, though, is to have different handset manufacturers releasing products that use the same exact interface, as it is happening with Windows Phone. While this is helping Microsoft draw attention to the signature Metro (or Modern) style, it isn't really helping the manufacturers much, as they are forced to compete mainly on the hardware level, without being able to differentiate their products software-wise. And with set specification limits, how much of a competition can there be in terms of hardware?
It just works
Some may make jokes out of this, but it's true - iOS's user interface simply works, and that's among its biggest assets. Sure its simplicity probably makes it a bit harder to implement changes that would add some more advanced functionality (like widgets), but why fix something that ain't broken? The reality is that iOS works, and it works for quite a few people.
Additionally, even though Apple doesn't make any groundbreaking changes to its UI, we have to admit that it's practically the most polished mobile OS UI out there, so it will actually be better if we see other manufacturers work on their software so that they don't look like 'iPhone for kids', rather than expect change from Apple. But back to Windows Phone, Microsoft has also done a pretty good job with its UI, although it's very different and would require more time for users to get used to it. Either way, it isn't nearly as established right now, so who cares about Metro/Modern? The need for software differentiation in the Windows Phone world is getting stronger by the day.
Being in the middle
Microsoft is playing an interesting game with Windows Phone. The OS takes the middle road between iOS and Android, being much more closed than Android, but not as integrated as iOS. However, since Microsoft isn't making its own phones, it has to rely on hardware manufacturers, which, in turn, want their phones to look differently from those of the competition. What do you do when manufacturers want personalized UI, and Microsoft wants one and the same UI? It's a tough situation in which Microsoft will have to make a few compromises, and think of a way for manufacturers to create UIs that are different, but still reminiscent of the Metro/Modern look, as Windows Phone also has to be similar to Windows 8. Again, the middle road. But we're afraid that sticking to one and the same UI won't help Windows Phone, as Microsoft's hardware partners are already demotivated to produce WP handsets, except for Nokia, which obviously loves making them Windows Phones.
Apple isn't really pressed to change the looks of its iOS. After all, iOS's UI is part of the iPhone's iconic look. It's something that's recognized and sought after. Whatever changes Apple makes, it'll try to preserve a similar look and feel for the software, as well as the hardware.
As you can guess, it's very different with Windows Phone. The OS still has a tiny market share, and what Microsoft has to do is to impress users with flashy handsets that don't all look alike. Still, with big screens taking up much of the space on a device's front side, they all somehow end up looking the same.
What do you say, folks, should Microsoft let phone makers do their own custom UIs, or Live Tiles FTW?