Who is Dennis Woodside, Motorola's new CEO?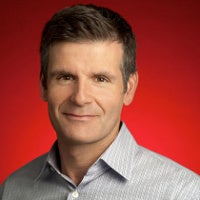 Biggest news today?
Google finally closed the Motorola deal
, so we're waking up to a day when we should finally decide whether it's Googorola, Googlerola or Motoogle. (Have your say in the comments below, we like Googorola!) Fact is that Google just spent a massive $12.5 billion mostly because of patents. Along with them, it got a phone and set-top box maker, though, and the way the search giant handles it is what will really prove interesting.
Google's first step after acquiring Motorola Mobility is changing the CEO. Sanjay Jha who proved to be an exceptionally clever manager, selling the huge deal to Google and ending up with a parachute made out of gold, and also making it to the top 5 of best paid CEOs for last year, will be replaced by Google's Dennis Woodside. And that's a huge change, but who is this Dennis Woodside?
A 9-year Google veteran, Woodside got a surprise call the day after Google announced its acquiring Motorola. Larry Page was on the line, offering him the CEO position and one day to think about it. He accepted.
I want you to run Motorola. I think you'd be great at it. Can you let me know by tonight?
Back in time, even Apple tried to poach Woodside, but Google's chief executive Larry Page granted him with some more responsibilities and kept him at the company. But will he be the perfect fit for the top manager of Motorola is a different question.
Woodside is an M&A lawyer, who worked at a California law firm Munger, Tolles & Olson and after that in a consulting company called McKinser prior to joining the tech industry. Google was his first gig in Silicon Valley, according to his LinkedIn profile. At the search giant, Woodside headed US sales with a focus on AdWords for around a year or two. He's also said to be close to chief business officer Nikesh Arora.
Also, as being part of Google sales, Woodside is said to be very
"analytical,"
capable of delivering extremely detailed presentations, but another source describes him as "not charismatic" and with "poor leadership skills."
What we know for sure is that we don't know much about him - Woodside is an enigmatic person with little public appearances. He will also lead a completely revamped Motorola. Half of the current executives got the boot, and the company is setting a goal to show Android in a
"well-designed, well-packaged, and well-marketed product."
My job is to make Motorola as successful as possible and deliver innovative hardware as a licensee of Android.
Former Kindle supply manager Mark Randall will run Motorola's supply chain and Gary Briggs, responsible for taking Chrome out to the public, will head marketing for Motorola. Motorola's new CFO is Vanessa Wittman, a former financial chief of services and insurance broker Marsh & McLennan.
Woodside got one thing right from the start, though - he emphasized that Google will not favor its Motorola acquisition with any information that other vendors don't get.
"Andy's job is to maximize the number of devices running Android,"
he says.
"My job is to make Motorola as successful as possible and deliver innovative hardware as a licensee of Android."
And that's already a good start, isn't it?