White Nexus 4 shows up, all ready for Google I/O 2013
27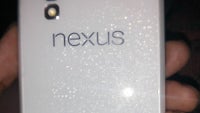 The
Nexus 4
is still one of the best phones money can buy - $300 off contract for a device that was cream of the crop just a couple of months ago is a tempting proposition, and now the Nexus 4 has leaked out in white. It's the same neat glass design with reflective patterned back but all in white, and chances are we'll get to see it at Google I/O 2013.
The white Nexus 4 ended up in the hands of Google Plus user Ervin Sue who says he's gotten it from a buy and sell website.
It's not a completely white device, though. Rather, it's two-toned with the back being white and the front side remaining black.
The
Nexus 4 in white
has surfaced long ago in January, but it's the first time we see it leak out allegedly from a retailer, making us think it's fairly possible to see it at the I/O event.
With an unchanged design, we hope Google would at least bump the specs on the Nexus 4 to include the modern Snapdragon 600 and the long anticipated 4G LTE.
source:
Ervin Sue