Which chat app are you using?
62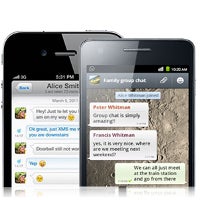 The chat revolution is not only about chat anymore, though - some of the best Android messaging apps are veritable social networks, complete with profile pages, status messages, media comments and sharing, as well as a smorgasbord of features like group video call that we now take for granted. Some of us are also concerned about privacy in the land of NSA, so a new offshoot of secure messaging apps is getting trendy.
It's pretty hard to navigate all those alternatives, so we
recently rounded up some of the best chat apps for Android
to help you choose. Needless to say, we are curious which one are you predominantly using, whatever platform you are on. Of course, a lot of us are using two or three chat apps, depending on where our friends and relatives are, but only a few are shaping up to be the most popular options. Check the marks below, and tell us which instant messaging app brings you the most joy these days.