Which Android browser do you use?
37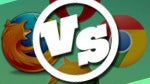 Browsing the web is among the top activities smartphone users engage in, and it's no surprise. Remember the first time you managed to get online on a portable, handheld phone? Glorious!
So which one do you use? Is it the default browser by your manufacturer (those are getting rarer and rarer)? Or do you stick with one of the proven bunch, such as Chrome, Firefox, or Opera? What about outliers, any of you rocking a relatively obscure browser app? Let us know, and consider sharing the reasons behind your pick!