Which 2017 flagship are you looking forward to most?
45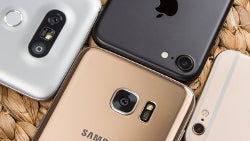 So, 2016 is pretty much behind us, all major smartphone announcements have been made, the playing board has been set, and all the players are doing their best to grab as much from the market as they can — especially now that the holiday season is on. And we, the users, have all pretty much decided on which 2016 phone is our favorite... or the biggest disappointment for us.
So, with all that said, now it's time to turn our eyes to 2017 and the exciting devices it would bring about. What top-tier handset are you most impatient to see? The heavily rumored Galaxy S8 or another modular LG G6? An aggressively-priced and much cooler OnePlus 4 flagship killer, or an HTC 11 that continues to carry the company's bold spirit? A Galaxy Note 8 that doesn't explode or an iPhone 7s that finally has a better screen-to-body ratio? Vote below and let us know!