Where can I buy the iPhone 6 and 6 Plus
17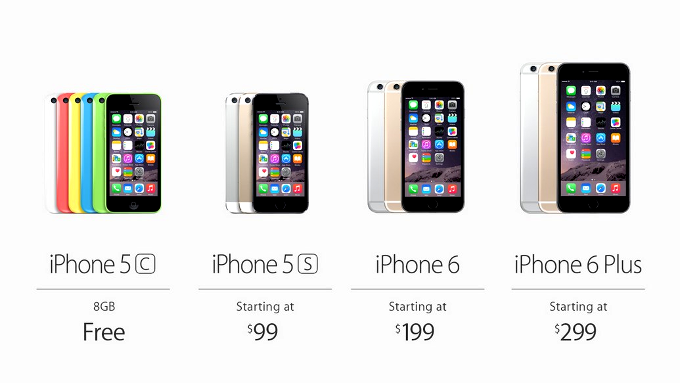 US
Hey ho, the
iPhone 6
is here, and there is an
iPhone 6 Plus
to go along with it, at 4.7" and 5.5" screens, respectively. In addition to the larger displays, you also get better cameras, faster chipset, the ability to take advantage of the Apple Pay mobile payments system, and a brand new ultra-thin design. So where can you buy the goods at this very moment?
First stop - Apple, of course. You can get the 16 GB iPhone 6 for $199 on contract on all major carriers, with a new 128 GB version going for $399, and a 64 GB one at a $299 price point. The 5.5" iPhone 6 Plus phablet starts at $299 for 16GB, $399 for 64, $499 for 128GB. As for the full retail off-contract price? We blast off at $650 without a contract, for the 16 GB iPhone 6, all the way up to $949 for the 128 GB iPhone 6 Plus.
Next up - carrier shops. Verizon, AT&T, Sprint and T-Mobile are all carrying all the iPhone 6/6 Plus models and colors. The Sprint one is the model that supports record 20 LTE bands, but the rest are no slouches either, with no less than 16 bands for a truly globetrotting LTE experience.
Retail and online stores - Sam's Club (they have the cheapest price - $177/$277 for the iPhone 6/6 Plus on contract), Best Buy, Radio Shack (this one is offering a free $50 iTunes gift card with any in-store purchase of the iPhone 6, plus trade-in options on old iPhones for up to $300), Walmart (another great option, as the iPhone 6/6 Plus can be had for $179/$279 on contract), Target (offering $50 to $200 for trade-ins), Staples and many more.
International
All prices abroad are jacked up higher with a few tens and even more, compared to the US. China still hasn't received a full retail pricing for the two new iPhones, although they are prominently featured on the local Apple Store site there.