When money is no object: Gold Apple Watch Edition gets crushed by two powerful neodymium magnets
34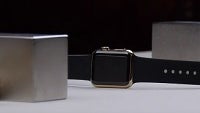 Do you know what neodymium magnets are? Well you are about to find out when two small blocks of the world's strongest commercially available rare earth metal compounds come together at high speed while a gold Apple Watch Edition is trapped in the middle.
How strong are these magnets? A set that is larger than a few cubic centimeters will cause physical injuries if they are not handled properly. Commercial applications are plenty, such as for MRI machines, audio gear (speakers), and a host of electric motors and generators.
They can also be used to crush gadgets. Northern California based tech destroyer TechRax happened to have an Apple Watch Edition
and
two bricks of neodymium magnets that have enough magnetic attraction to create about 650 pounds of crushing force. The obvious play
The watch was effectively destroyed of course. The gold doesn't look too bad. Amazingly, when he put the watch in the box to connect the charger, the thing emitted an audio acknowledgement that it was reading a charge.
A pointless waste of money? You bet. Better than putting two
Apple Watch Editions on a dog
? Probably.