WhatsApp users are making more than 100 million calls a day using VoIP
7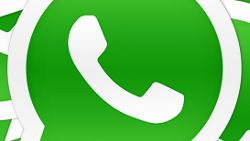 WhatsApp users are making plenty of phone calls using the messaging app. Would you believe that more than 100 million calls a day originate from the app? Our math skills might not be what they once were, but we can tell you that this works out to 1100 calls per second. There goes another 1100 calls. And another. And another. You get the picture by now.
Two of the app's largest markets are India and Brazil, where the ability to make these VoIP calls are a big draw. In India, 95% of smartphone users are employing WhatsApp, and in Brazil that figure is 94%. Those worried about running through their data can use a setting in the app that lowers the quality of the call by reducing bandwidth consumption. The calling feature does work on 4G LTE, 3G and 2G pipelines.
WhatsApp has over 1 billion users globally. Facebook closed on its purchase of the messaging app in October, 2014. By the time the deal was finalized,
the value of the transaction exceeded $21 billion
.
source:
AndroidCentral
Recommended Stories