What´s the market share of the major cell phone manufacturers?
This article contains unofficial information.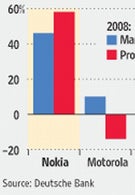 The economic recession has delivered a severe blow on all cell phone manufacturers and even the most successful of them are registering profit shortfalls. Motorola and Sony Ericsson aren´t doing great at all, although they managed to hold their market positions and are still on the top5 list in terms of market share. This is so, because market share itself cannot be directly interpreted as profit, although it´s exactly the amount of positive income that is of interest to most investors, because it shows where the companies are headed for.
Deutsche Bank analyst
Brian Modof
has made the necessary research and the graph you can see below shows the relevant company profits as percentage of the total industry value. Nokia still leads the pack with 60% of the industry earnings, huge earnings generated by its massive market share. What´s more interesting is that RIM and Apple, both smartphone focused, managed to make it off with a nice slice of the cake, despite their relatively miniature market presence. We certainly hope to see more similar analytic papers that would prove (or reject) the credibility of Mr. Modof´s research findings. Moreover, we believe we should see the largest Windows Mobile based cell phone manufacturer, HTC, on the graph as well.
source:
IntoMobile