What's the deal with the free "Obama phones"? Mystery explained
45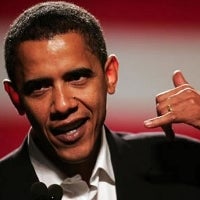 A video of a protester at a presidential candidate Mitt Romney event went viral yesterday, putting more arrows in the Republic quiver aimed at Obama's "handouts" to the poor that are supposedly destined to win him the reelection. Mitt Romney recently referred to 47% of Americans as people who would vote for Obama, as they are receiving direct or indirect benefits from the government.
The protester says to vote for Obama not Romney, as the President is giving them free "Obama Phones". Now could it be that the White House is amassing trillion dollar deficits, all the while it buys people's votes giving away free cell phones?
Conservative talk show host Rush Limbaugh picked up on the story, and pounded on:
So these are the people that don't like Romney because of what he said about 47%? No, these are the 47%!… She knows. She knows how to get this free Obama phone. She knows everything about it. She may not know who George Washington is or Abraham Lincoln, but she knows how to get an Obama phone.
What the woman in the video is referring to, is actually the so-called
Link-Up program
, created way back in 1984 during Reagan, initially targeted at providing landlines, so poor people who can't otherwise afford it have some connection with the world, and has been an item on your phone bill for more than two decades now. When cell phones became the norm, the program expanded to include them with carrier service as well, and was renamed
Lifeline
, since the idea was that everybody has access to the 911 emergency service at all times.
That was, however, done back in 2008, before Obama took office, without regards for the ballooning costs, which mushroomed from $772 million in 2008, to $1.6 billion last year for the Lifeline program's more than 10 million low-income subscribers. A 2011 audit revealed that 269, 000 of them were receiving free phone and service from two or more carriers.
What happened after 2008 is that several websites rode the trend of government money pouring into subsidizing cell phone connections for poor people, and quickly created the buzz word "Obama Phone", with some like Obamaphone.net going as far as designing the site similar to the governments ones, and putting a picture of the President making the popular phone talk gesture.
So that's that as far as what the woman in the video below refers to when she says every poor person in Cleveland has received a "free Obama Phone".