What's the best deal on a Galaxy S8 or S8+ preoder? BestBuy vs Walmart, Costco, Target and Sam's Club
21

This year, flagship phones will be more expensive than their predecessors, on account of their design overhauls, as exemplified with the
LG G6
already, or with the
rumored $1000 starting tag
for the
OLED iPhone 8
. The
Galaxy S8
and
S8+
continue this trend, as they come at about a Benjamin more than their predecessors S7 and S7 edge at launch. Preorders have already started, while Samsung is going to release the phone en masse on April 21st.
The Galaxy S8 and S8+ are available in carrier shops and websites at AT&T, Verizon, T-Mobile, Sprint, Cricket Wireless, US Cellular, Straight Talk Wireless, but also retailers like BestBuy, Walmart, Costco or Target. The S8 ranges at $720-$750 with those carriers, while the S8+ is about $100 more, for the hefty $840-$850. You do get perks with early ordering like a free Gear VR with a controller, but these are coming from Samsung, so you can get them everywhere, and retailers like BestBuy or Costco are offering better deals than the carriers, we've ranked them in order of appeal:
Sam's Club - $150 gift card on top of Samsung's bonus
(Verizon, AT&T, Sprint, US Cellular)

Just like last year with the S7 and S7 edge, Sam's Club is offering the best deal on Samsung's newest flagship, provided that you are a member of the club, of course. It is giving $150 gift cards to folks who pre-order any of the two new smartphones and activate them on Verizon, AT&T, or Sprint (sorry, T-Mobile users, this deal is not for you). To redeem the gift card, you'll have to pick up and activate your brand new Galaxy at Sam's Club between April 21 and April 30. Buyers are also entitled to get the free Gear VR with Controller that everyone else in the US is offering with the S8 and S8+. Moreover, between April 21 and April 23, Sam's Club is waiving activation and upgrade fees. All in all, you can get up to $359 worth of freebies, which is pretty good, and membership costs $45 per year, giving you access to many other deals all year long.



Walmart - $150 installment credit
(Verizon, AT&T, Sprint, US Cellular - in-store), (Straight Talk - online and in-store), (Total Wireless - online)





Save $150 when you get the S8 or S8+ on most carriers but T-Mobile - you put a down payment, depending on the carrier, and it gets tacked to Walmart's $150 credit, then the resulting sum gets credited in monthly payments to the installment plan. Some deals are in store, others online-only, but only select Walmart locations are participating, so make sure you check before you head over your nearest Walmart.
Target - $100 gift card
(Verizon, AT&T, Sprint)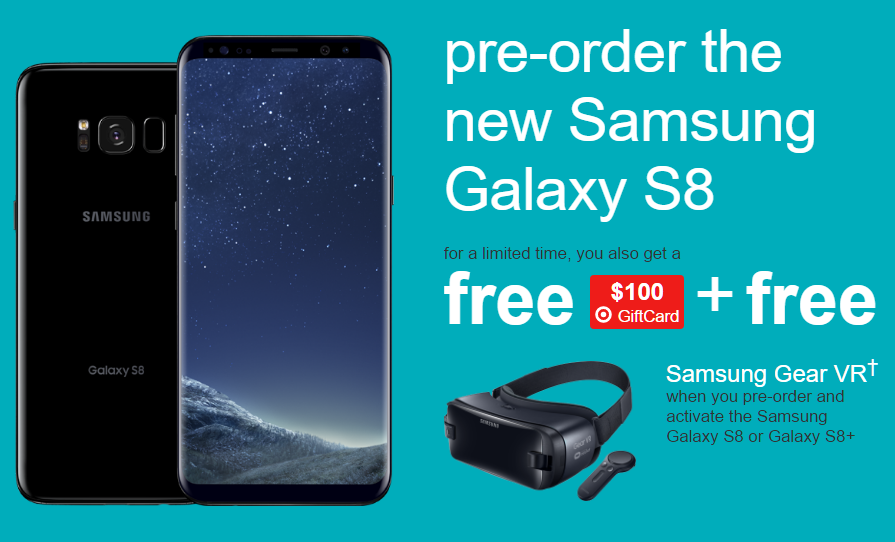 You get a $100 Target gift card with purchase and activation of the S8 or S8+. Target promises that the electronic GiftCard voucher will be delivered to you via email within 14 days of activation. Plus, you get the Gear VR with controller thingy, of course.
Best Buy - $50 installment credit on S8, $100 on S8+
(Verizon, AT&T, and Sprint)

Perhaps your best non-membership bet when it comes to the S8 and S8+ preorders, BestBuy can save you $50 on the S8 and $100 on the S8+ is you preorder from your carrier with them (sorry, T-Mobile's feud with BestBuy has barred it from entering.) The discount goes with a payment plan only, otherwise you will have to pay full retail with the respective carrier. The savings are spread throughout the payment plan's duration, though, so with the S8 you spare $2.09 a month for 24 months, and so on.
Bundles
: Free Gear VR with controller and $50 bonus Oculus content with pre-order and qualified activation of the Galaxy S8 or S8+. Bundle value $279.99, or, get the Samsung Immersive VR Experience Box for $99.
Samsung - all preorder gifts ship directly with the S8 or S8+
(Verizon, AT&T, Sprint, T-Mobile)
Did you know you can order your carrier phone directly from Samsung now? This way, you don't have to wait to get the pre-order bonuses, as they'll get shipped right away along with the S8 or S8+. Also, the phones will be with you a day early, on April 20th. Unfortunately, the preorders only go for carrier phones, as Samsung will be providing the unlocked version as far as out as the month of May. You can get the
official Samsung accessories
to ship with your phone, though, including the
slim clear case
for twenty bucks.

If you preorder in the stores (need to be a member, of course), and do an installment plan on Verizon, Costco will throw in a pair of Level U Pro headphones on top of the other bonuses, as well as the TYLT Power Essentials pack: TYLT 5200mAh battery pack, micro USB cable, USB-C cable, Dual Port 4.8A Car Charger, and a carrying case for all. Bonuses and discounts for other carriers, as well as the rumored Costco gift card may come, but only after the official Galaxy S8 and S8+ launch on April 21st.
Carriers
For comparison, we list once again the carrier prices, remember that the big retailers stack their bonuses, discounts and gift cards on top of what the carriers and Samsung already offer as enticements, it's a cruel world:
Device
Payment
Verizon
AT&T
T-Mobile
Sprint

Galaxy S8

Installments
$30 / 24mo
$25 / 30mo
$30 upfront + $30 / 24mo
$31.25 / 18mo
Full price
$720
$750
$750
$750

Galaxy S8+

Installments
$35 / 24mo
$28.34 / 30 mo
$130 upfront + $30 /24mo
$35.42 / 18mo
Full price
$840
$850
$850
$850
Pre-order bonuses
Free Gear VR with Controller and Oculus content pack OR $99 "Experience Box" with Gear VR and Controller, Harman Kardon headphones + 256GB microSD card
Free Gear VR with controller and Oculus content, BOGO, and deals on Gear S3 and Tab E
Free Gear VR with controller and Oculus content
Free Gear VR with Controller and Oculus content pack OR $99 "Experience Box" with Gear VR and Controller, Harman Kardon headphones + 256GB microSD card
Pre-order here
Link
Link
Link
Link