What would you rather buy: Sony Xperia XZ2 or LG G7 ThinQ?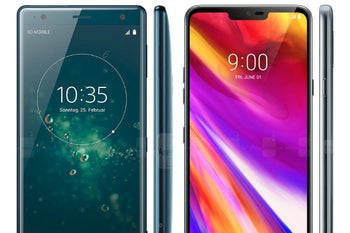 LG and Sony are both two giants in the smartphone market that have been... struggling for a while. LG does its best to produce flagships that look and feel like contemporary high-end devices, but they often get overshadowed by competitor or two's marketing efforts and general hype. On the other side, Sony seemed adamant on sticking with aging design styles and features for years and has only recently decided to pick up a couple of contemporary market trends. But it didn't help that for all this time, Sony smartphones have been costing a pretty penny (and they still do), which makes it hard to attract new fans (or old ones — back).
Currently, you can find both phones on Amazon for fairly even prices — the
G7 ThinQ
is at $650, while the
Xperia XZ2
goes as low as $684. We wondered — if it were down to these two, which one would you buy?
LG touts a lot of multimedia features with its
G7 ThinQ
— built-in camera effects and cinematic zoom mode, the Boombox speaker (which is mono, but will make a wooden object resonate and amplify your music for you), wide-angle cameras for big panoramas, action shots and vlogging, a quad Hi-Fi DAC to power an audiophile's big headphones. The AI camera picks scene-based settings on its own and you have the night mode, which combines the sensor's pixels in groups of 4 and boosts the light in a low-light scenario.
Sony, on the other hand, has the Super Slow
Motion
camera, stereo speakers, the Dynamic Vibration System, which shakes your phone in sync with the displayed multimedia content, making for a more immersive experience, X-Reality mode which turns your old, "ordinary" video into HDR-looking content, and 4K HDR recording from its camera.
In terms of hardware, both devices are pretty even — Snapdragon 845, 4 GB of RAM, 64 GB of storage. The LG G7 has a slightly bigger, 6.1-inch screen, vs 5.7 inches on the
Xperia XZ2
.
So, if you had to choose, which one would it be?