What to expect at CTIA WIRELESS 2010?
7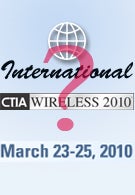 The annual
CTIA WIRELESS
is traditionally held in the spring and the upcoming edition takes place in Las Vegas in the period
March 23-25
, 2010. The event gives carriers yet another opportunity to showcase new products and services, so should we expect to see a number of really exciting new devices... or not?
Unlike in previous years, however, we do not expect ground-breaking news or many novelties there. The bits of information that have been leaked on the Internet are just a few and the confirmed facts are even less. This, however, does not mean this edition of CTIA will be boring to be at or that carriers will fail to surprise us. One possible explanation is that manufacturers have tightened security, addressed every potential informational loophole properly and are actually preparing to show off products, services and technologies that will shock and change the mobile world forever.
4G networks
will be in the centre of attention and one of the buzzwords at CTIA WIRELESS 2010.
Sprint
has already deployed its high-speed,
WiMAX
network in major cities across the country and is now expected to showcase the first handsets capable of actually utilizing it (
the rumor has it
the
HTC Supersonic
is one of them). With its downright impressive hardware, the device can really help 4G get off to a flying start - it integrates 4.3-inch AMOLED display, 1GHz Snapdragon processor, 512MB RAM/1GB ROM, 5-megapixel camera and Android. A little bird told us we would see at least one WiMAX capable device for Sprint at the exhibition, although no further details about it were provided.
Verizon
and
AT&T
are also expected to jump on the 4G
bandwagon, although their plans include utilizing the
LTE standard
instead. Big Red
should deploy
its network in 2010 (with its first LTE handset
probably hitting the shelves as soon as summer 2011
). AT&T intends to embark on a full scale 4G network installation sometime next year. We do not really expect to see 4G cell phones for the carriers at this particular event, but who knows... Still, it´s more probable that the audience is presented with more accurate plans as to when, where and how the companies plan to pull off the 4G stunt, including relevant deadlines and milestone targets.
Hm, what else? But of course, the big green robot.
Android
is all the rage now and we will not be surprised to get our hands on new Android-based handsets for the major carriers. We expect to see the official announcement of the
HTC Incredible
for Verizon and truth be told, we suppose it will prove to be an awesome device with huge AMOLED display, 1GHz Snapdragon processor (possibly
downclocked
to 768MHz) and 8-megapixel camera. Sounds monstrous.
In the meantime, it does not seem unlikely that AT&T procures the American version of the
HTC Desire
. On the other hand, Sprint customers are holding their breath for the official announcement of the
HTC Hero2
that will actually be a modified edition of the famous
HTC Legend
. The word has it that T-Mobile intends to release the Android-based
Samsung T959
any time now and there is hardly a better place than CTIA WIRELESS to put a handset in the spotlight.
Now, let us stay on target and press on. What is the other buzzword in the cell phone world? Correct,
Windows Phone 7 Series
.
MIX10 answered
many open questions relating to Microsoft´s brand new operating system, so we do not expect to stumble upon any stunning revelations at CTIA WIRELESS 2010. However, it appears that
Samsung
will announce
something called "the S'Life"
. Whatever this may be, a new service, AndroidWP7S/bada handset or just a feature phone, "S Life" remains shrouded in impenetrable mystery and nobody seems to have a clue what it is.
Well, we guess we will also manage to unearth more details about many (and not as grand) topics, feature phones, services and accessories that might prove to be quite interesting as well.
So, where are you to find extensive information and latest news from the event? At PhoneArena.com, of course, because we will be reporting live from
CTIA WIRELESS
for the seventh consecutive time.
Stay tuned for our Live Coverage
! Check out
this article
, to see how to follow the news.