What does the iPhone 4S miss the most?
35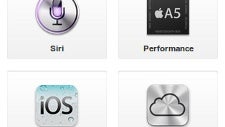 The
iPhone 4S
doesn't come with new visuals, but it's almost completely overhauled on the inside. A dual-core A5 processor, an 8-megapixel camera, iOS 5 with iCloud integration and the introduction of the personal voice assistant Siri in concert are what make it the device it is. But while that's all good, analysts and most importantly -
you, were disappointed
with the announcement.
What did you expect to see and didn't? And what was the one thing that would have changed your perception of the new iPhone 4S the most?
The rumor mill churned for 16 months and rumors ranged from a device with a bigger screen, to 4G LTE included and even wild new redesign with an elongated, gesture-enabled area instead of a home button. None came true, but in another world (or in a next iPhone, some of them probably would).
That's why, we're curios to see - if you were to pick the
single feature
that would have thrilled you for the iPhone 4S - which would it be?