Are you happy with what the iPhone 4S turned out to be?
99+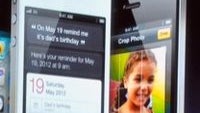 The long-awaited
iPhone 4S
has finally been made official, and while it retains the looks of its predecessor, quite a lot has been changed under its hood. We now have a mighty dual-core chip ticking inside, namely Apple's very own A5, and an upgraded 8-megapixel camera is gracing the smartphone's back. And let us not forget iOS 5, which the next iPhone is going to ship with. The very latest version of Apple's mobile platform brings along tons of new features, such as iCloud, iMessage, a revamped notification system, and deep Twitter integration, to name a few.
Nevertheless, after so many months of anticipation, most of you have probably expected the latest version of Apple's pride and joy to be redesigned from the ground up, and not merely an upgrade of the iPhone 4. Having at least a slightly bigger display was likely what many were wishing to see on the new iPhone, and its body could have been given a fresh new facelift.
We have decided to turn to you, dear readers, as we are very curious to find out what your opinion on the matter is. Are you happy with what the iPhone 4S turned out to be or you are simply underwhelmed that this is all Apple could come up with after all this time? Feel free to cast your vote below!