What do BlackBerry fans dream of? Here's what...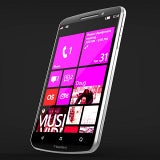 We all know that RIM is going through a very difficult period right now, with a current line-up of highly unappealing BlackBerry OS 7 smartphones and an OS 10 launch that probably isn't going to happen
until early next year
. Plus, it's not certain if the release of the next-gen BB devices will make any difference.
Probably due to this overwhelmingly gloomy atmosphere over at the BlackBerry camp, independent designer
Michal Bonikowski
has decided to show his vision of how the new BlackBerry phone should look. Obviously, Bonikowski envisions a very large screen, overall stylish casing, and... Windows Phone?!
Oh dear, it looks like the only people in this world who're still having any hopes in the BlackBerry OS are those working at RIM. But hey, if Windows Phone is what it takes to get the company back on its feet again (although some people will say
there's nothing wrong with it
in the first place), then do it! Of course, it's easy for us to say it.
What do you guys think of the concept images below? Do you like the idea of a well-spec'd BlackBerry smartphone running Windows Phone 8? We certainly do!
source:
MobileSyrup