What color would you like to see on the iPhone X?
24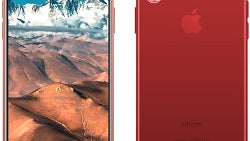 When the
iPhone X
was finally announced, there were very few surprises for anyone that has been following the leaks leading up to the actual event. We knew the shape, we knew the size, actual physical mockups of the phone were being made and sold left and right. But what did surprise us was the lack of a color — the rumored, copper-like "
Blush Gold
".
Yeah, there was a heavy stream of leaks suggesting there would be a third iPhone X color, not just black and white. Some even suggested that the special gold would be
really hard to get
due to limited quantities. Maybe it was a color, which was so hard to make flawlessly that Apple scrapped it off the production line? We can't know for sure. What we do know is that the iPhone X only comes in gray and white. In 2017, that seems a bit limited, no? Especially considering that the
iPhone 7
had 5 different colors (OK, 2 of them were differently-finished black, but you get it) to pick from.
So, if we were to assume or even dream that Apple might introduce a new shade for the iPhone X at some point later, like it did with the
Product Red
iPhone 7, what would you like it to be?