What can you do with the Lenovo Phab 2 Pro and Tango AR at launch?
6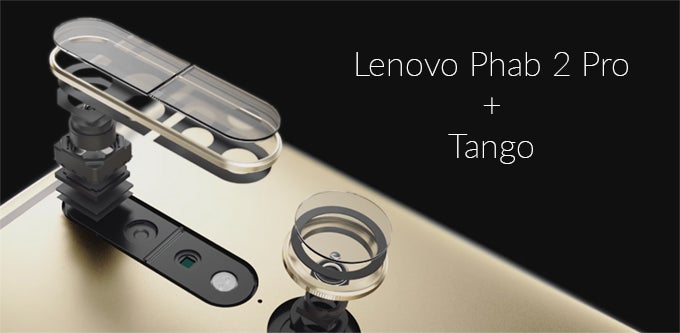 Alongside the launch of the
Lenovo Phab 2 Pro
yesterday, Google officially launched its Tango AR platform with 35 apps and games, which should grow in number in the coming weeks. The Lenovo Phab 2 Pro is the world's first Tango-enabled smartphone, capable of mapping your surroundings in 3D through Google's new augmented reality platform via a plethora of sensors, cameras, and other impressive tech. But what can you do with Lenovo's 6.4-inch phablet if you got it right now? Stay tuned to find out.
The Lenovo Phab 2 Pro is currently the only Tango-enabled device on the market, meaning that if you want to experience Google's futuristic vision of mixed reality home redecorating and playing with dinosaurs, you have to own Lenovo's new phablet. Still, even if you don't, it should be interesting to take a more detailed look at what the ambitious new platform has to offer at launch. With that said, here are some of the more interesting Tango AR experiences available right now:
Solar Simulator
Want to turn your living room into a scaled-down version of our Solar System? Well, then Solar Simulator should be just right up your alley! Once booted, the app asks you to "place" the Sun at one end of the room — yes, this is done by actually walking to where you want to the Sun to be and tapping the screen — and then "place" Neptune in the farthest end of the room, as it is the planet farthest from the Sun. The application then automatically scales the Solar System to fit inside the room by using
magic
Phab 2 Pro's depth perception and motion-tracking sensors to convincingly superimpose the virtual space over the real one. Then you can freely walk around a scaled-down version of our Solar System, and yes, you can choose not to have a "space" background, leaving the planets hanging against the backdrop of your room. How cool is that?
Domino World
Ever wanted to assemble a huge and elaborate domino line and then give the first block a tiny push to set off a chain reaction sending hundreds of tiles toppling over in intricate patterns? Well, that would take you hours and deliver only a fleeting moment of joy. That's where Domino World comes into play, allowing you to create crazy virtual domino "courses" in the world around you. You're also not limited to domino tiles either, but have various toys and other objects in your disposal to use in your Rube Goldberg-inspired creations.
Dinosaurs Among Us
Dinosaurs Among Us, a.k.a Taking Funny Pictures of Papercraft Reptiles, is a curious little app that lets you turn your home into a real dinosaur extravaganza. It's also educational, yeah, don't forget that! It currently has only a handful of dinos available, but their number will grow with future updates, and there's a ton of interesting info for each one.
Measure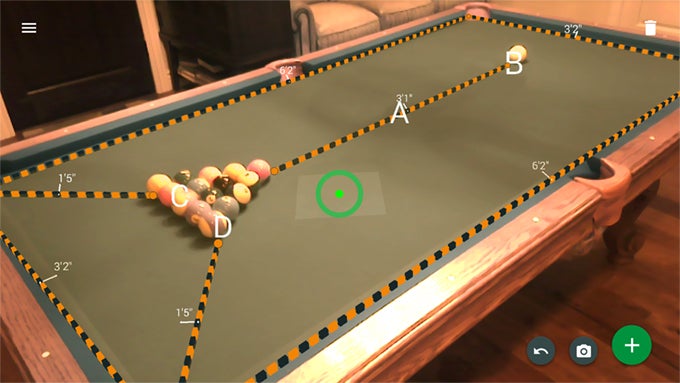 Measure allows you to quickly and accurately measure distances by simply pointing your phone at the surface you'd like to measure and using the on-screen cursor to place marker points. You will see your measurements in AR, tracing the real-world distances with dotted lines. You can even take a picture of the measured surface and convert between imperial and metric units on the fly.
WayfairView
This Tango-exclusive app lets you place different articles of furniture in your home, in AR, without doing any heavy lifting. All products are from WayfairView's catalog, and are on a 1:1 scale to help you better visualize any possible changes to the interior of your home. There are also many options for comparing different products and sharing your arrangements with others.
Fury of The Gods Tango
Fury of the Gods is a tower defense game that lets you turn your living room into an ancient Greek arena of destruction. You can play as one of three Gods — Zeus, Poseidon or Hades — and your job is to send your enemies and disloyal subjects into oblivion by using your awesome godly powers and the help of mythological beasts. The game features three distinctive campaigns, one for each of the Gods, and lets you disable and enable AR camera mode, meaning you can either wreak havoc around your house, or in virtual Ancient Greece.
Read more on Project Tango and the Lenovo Phab 2 Pro:
source:
Google