What are people doing with their smartphones?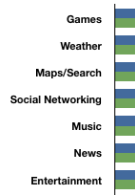 The Nielsen company has released some interesting data on smartphone app usage. The data comes from a survey of 4,000 wireless subscribers that reported downloading at least one app in the last 30 days.
App downloading per device is up to 27 from 22 in 2009. This is because of the volume of apps available, and the increasing storage and capability of newer devices. iPhone users reported the most apps, with an average of 40 (37 in '09). Android users are next with an average of 25 (22 in '09). BlackBerry users have the least, with 14 apps per device (10 in '09).
In terms of app usage, games led the way with 61% of subscribers using one in the last 30 days. Weather, maps/search, and social networking followed behind with usage at 55%, 50%, and 49% respectively. It's important to note that this figure is about individual use, not duration.
The most frequently used individual app is Facebook, with Google Maps and Pandora among the top 5 of the three OS's featured (iOS, Android, BlackBerry). Twitter only made the top 5 on the BlackBerry, likely because it's easier to post lengthy tweets on the BlackBerry's full QWERTY.
source:
The Nielsen Company
via
The New York Times