WeChat takes Facebook CEO to a psychotherapist in this campy promo
4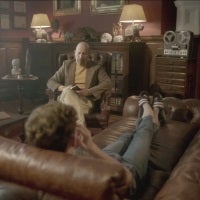 We're not advertising experts, but we have to admit that hiring an awkward Sigmund Freud stereotype and a depressed, slippers-donning Zuck to get across the message that users are
"crazy for WeChat"
is... gosh, just watch the video. Thankfully, the campy little gag isn't meant to be taken seriously, because it's too tasteless to pass for satire.
"I invented a social network and now my friends are un-friending me!"
- confesses Mock Zuckerberg to Mockmund Freud.
"'zis is a claessic case of friendophobia!"
- concludes the psychotic therapist, and goes on to comfort his sobbing client with WeChat's Friends Radar function, which will find him new pals in an instant. Well, you don't get to 500 million friends without making a few enemies, right? Along the way, we meet the doc's headless female assistant, Frauke, with enough sexual tension implied between the two to make Freud light a cigar in his grave.
With
WeChat
having some 335 million active users across the globe, and calling for Facebook's attention by throwing rocks at its windows, we can't help but wonder whether it will anger Zuckerburg into buying another chat service. Hopefully, the social network mogul will go along with the joke and pour his cash into more innovative ventures.
via TechIn Asia