We take a closer look at augmented reality with Augment's 3D AR app for Android and iOS
5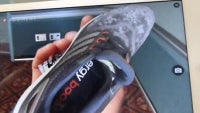 Augmented reality (AR) applications are not new in the smartphone or tablet space. Features like Nokia's old City Lens (now called LiveSight) on Lumia Windows Phones have been around for a few years.
However, that experience stops at the front door of whatever business or service you might want to use. The AR industry is taking things way beyond simply helping you find places, to helping you make more informed choices when you work, shop, and have some fun too.
Augment, based in Paris, is one of the leading developer teams changing how we can view the world around us with our smartphones or tablets. The 3D Augmented Reality app for Android or iOS is a tool for merchants and consumers. Augment has successfully partnered with a number businesses to bring AR rendered models for consumers and other businesses alike.
Businesses that have enabled their products to be rendered with Augment 3D allow their sales people to show their clients how a particular product might look in a real-time setting. It also allows customers to more vividly imagine how a product looks in all dimensions, be it a piece of furniture, or perhaps footwear. 3D Augmented Reality lets you have some fun too by bringing in animated, scalable figures which you can take pictures of with friends in the frame.
Where AR has made the biggest strides in usability recently is how well images render, and how easily they can be manipulated in the virtual environment. Augment is shaping how we engage in the mobile environment. Whether we want to see how a piece of art might look on the wall, or a shop owner wants to see how a rack of product will look at the register, we can "see" things in a whole new way.
Download 3D Augmented Reality:
Android | iOS