We may be witnessing the beginning of the end of cheap Chinese smartphones
35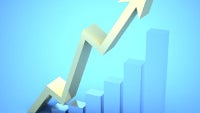 Nowadays, as consumers we enjoy a larger diversity of smartphones than ever, and at price points that are racing downhill, spearheaded by Chinese manufacturers hungry to get a piece of the action. Indeed, while Chinese handsets have recently started getting the kind of attention to detail that Western markets are accustomed to, it was still price that moved most of us, including Chinese locals, to choose a comparatively obscure and untested brand over any of the established makers. According to new data from the IDC, however, we may be witnessing the beginning of the end of the downward-spiraling drive for ever lower prices.
The new stats show that the average sales price (ASP) of a smartphone in China has spiked quite significantly, and in just a matter of months. The below graph, courtesy of
Bloomberg
, exemplifies this — an ASP of $192 in Q3 2014, up to $239 in Q4 2014, and then up again to $263 in Q1 this year. That's not at all a banal jump, especially considering the time frame within which it occurred, and the fact that the Chinese smartphone market contracted for the first time in 6 years! What gives?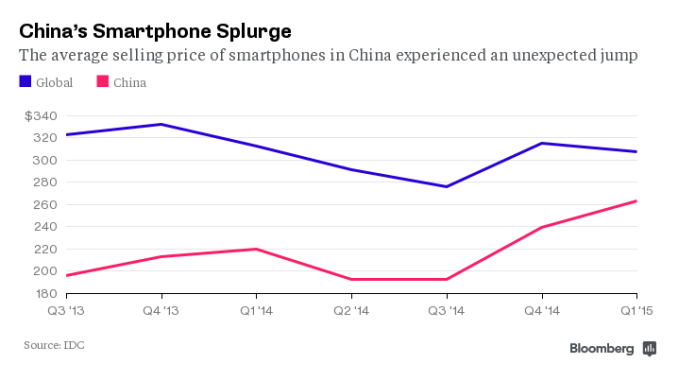 Well, according to IDC analyst Bryan Ma, for the most part this change can be attributed to Apple's entry onto the Chinese market. Indeed, so popular have the larger-screened iPhones proved, that Apple sprung to the number one spot in China, becoming the largest manufacturer by sales volume share, leap-frogging local star Xiaomi and archrival Samsung both. The popularity of Apple handset is now considered to be driving prices of competing devices up.
Of course, the Chinese ASP figure still trails the global average (a little over $300), but the gap has been significantly reduced, and is narrower than ever before. Just an example — a year ago, the difference between the local and global averages was around $100. It'll be interesting to see how, or if at all, local players like Xiaomi, Huawei, Lenovo, and others respond to this new reality, and whether they'll follow suit with a raise in their prices, or stick to what they've done so far in hopes of giving potential buyers even more reason to choose their wares.