We get in the car with Android Auto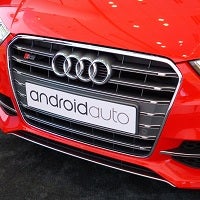 Google I/O was heavy on Android in nearly every way. Android L was announced as a developer preview, Android Wear is for sale now with two nice looking smartwatches with a third on the way. Android TV will pick-up where Chromecast left off and now Google is in the car.
Android Auto made its way into the spotlight and like Android Wear, the user experience relies on the Google Now card notifications allowing for input responses using the car's own controls or by voice command.
Through the Open Automotive Alliance, dozens of vehicle manufacturers, from Alfa Romeo to Volvo, are on board to begin offering vehicles with Android Auto as part of the mix. Google had Android Auto on display in a number of vehicles at the developer conference, a small Chevy, a sleek Audi S3, a Ford, and a Honda Civic sedan as well, effectively encompassing the breadth of support Google has behind the initiative.
We got to enjoy our demonstration in the bright red Audi and see the functionality of the Android Auto in action. One interesting factor about Android Auto is that it does not try to be all things to all systems in a vehicle. It does not attempt to take over the heating and air conditioning or other functions. Rather, it consolidates data from your phone and presents what is relevant in a manner that is hopefully less distracting than holding a phone in the hand while still allowing the user to communicate.
Android Auto connects via Bluetooth with an Android phone. The rest as you can see from the demonstration below, is fairly simple. The Google Now UI ensures that not too much information is flooding the screen to distract the driver. It is a nice execution.
All told, this looks like a competent and competitive response to Apple's CarPlay, and judging by the participation in the Open Automotive Alliance, it looks like the advantage goes to Google.