Watch the full Ubuntu phone keynote
19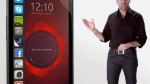 We tried our best to cover the announcement of
Ubuntu for phones
that came yesterday, but there are some things that are better seen than explained. With that in mind, we're bringing you the full keynote speech or Canonical founder Mark Shuttleworth as he walks through the future of Ubuntu, including the plans for Ubuntu for phones.
As you'll notice pretty quickly, Shuttleworth is doing his best to emulate all of the product videos we've seen from Apple. You've got the jeans and black shirt, plus the annoying plain white background (a bit more halo effect on Shuttleworth than Apple would use though), and we didn't count, but we're pretty sure Shuttleworth uses the word "magical" at least 4 or 5 times.
All that aside, the announcement is pretty nice. A lot of thought obviously went into the design of the phone UI, and we really like the idea of using each edge for a different purpose, especially how you can easily get to different settings by swiping from the top (around 11:20 in the video). If it works well, the voice command in apps looks pretty sweet as well (around 12:30 in the video).
A couple other interesting moments came when Shuttleworth really tried to push the idea that gaming on the Ubuntu phone would be top notch, because gaming is a notorious weak spot for Ubuntu and desktop Linux in general. Steam is just now in open beta for Linux, and the gaming ecosystem isn't the best. So, it's interesting to see Shuttleworth really pushing this, even claiming
deals with "top game developers"
. We'd like to see better gaming on Linux, but that's a tall order.
The most interesting was towards the end of the video when Shuttleworth
seems to take a shot at Android by calling Ubuntu "a truly open phone"
, which seems to imply that Android is not truly open. This has always been something of an argument, and on a certain level it is both true and false. Android is semi-open in that developers can submit code, and the code is freely available, but it is only semi-open because Google doesn't release the code for new versions until the update has launched. Also, there is the top layer of Google Apps which are not really part of Android, and therefore not open.
We were also interested about the mentions of the security on the phone, but it's never really explained how security will be done, especially with the emphasis on the fact that the phone won't have a lockscreen ("a barrier" as Shuttleworth calls it), but rather a welcome screen. There is mention of multi-user support and great security, but no real demo of either. But, the image should be dropping soon, so we'll find out for ourselves soon enough.