Watch as people are tricked into giving up their passwords
15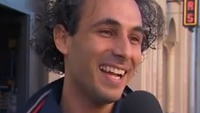 How strongly are people protected by their passwords? According to Jimmy Kimmel, the most popular password used is "password 123." Sony, recently the victim of a hack squad put together by North Korea (says the FBI), had kept its passwords in a file named "Passwords." Amazing. Kimmel decided to take a camera crew down Hollywood Boulevard to see how easily people can be tricked into giving up their passwords.
Watch the first person that appears on the video below. She says that her password consists of her dog's name and the year she graduated high school. That might be safe enough, especially since the world knows nothing about this woman. But watch how fast she gives away the pertinent information when asked questions related to her password.
Others also seem to give away the components of their password without a second thought. Even those who are taken aback at first, end up giving in to the easygoing questioning of the girl behind the microphone and the excitement of being on television. Take a gander and promise yourself that you won't give in if similarly grilled.
source:
JimmyKimmel
via
BGR