Watch an iPad 2 meet its maker in a lava pit
12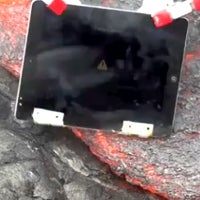 There's not much more into this than a tablet dipped into some lava, but its pure unadulterated fun to do nonetheless, especially if it is the world's most popular slate.
A small case company made this publicity stunt, trekking to a place near one of Hawaii's volcanoes, and getting up close and personal with the hot furnace of melted lava slowly making its way down. The CEO hung an
iPad 2
, which was rotating pictures of the company's products, on a pole, and started torturing Apple's slate for the joy of all Android fans nearby.
We kid, but the iPad 2 did perform for a while, then showed the overheating warning we are accustomed to from the days we saw Apple's gear baking on a barbeque grill in another stunt, and gave up the ghost. Watch the pointless marketing experiment in its entirety in the video below.
via
CNET