Watch Steve Ballmer surprisingly appear during the Qualcomm keynote
11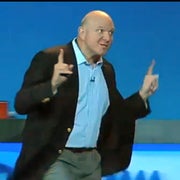 As some of our readers might know, Microsoft is not attending this year's CES. The company doesn't have any plans to be present in future installments of the show either. However, that didn't stop Microsoft's CEO, Steve Ballmer, from making a surprise appearance during yesterday's Qualcomm keynote. And boy, what an appearance it was!
Ballmer was as enthusiastic about the latest Windows devices as ever, highlighting a number of exciting upcoming Windows applications and touting several Windows powered tablets. Their impressive battery life was mentioned as well, as was the fact that they are powered by Snapdragon chips.
But let us not spoil the fun – just watch Steve Ballmer himself in the brief video below, courtesy of the folks at
GeekWire
. Make sure you post a comment below if his arrival on stage made you giggle!