Watch Nokia's Windows Phone 8 Lumia event live stream here
9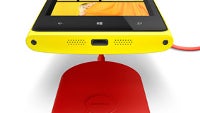 We're just moments away from Nokia's biggest event for the year - the unveiling of its first Windows Phone 8-based Lumia devices. There's plenty of reasons to get excited about Nokia's new gadgets but the biggest one might turn out to be PureView, the revolutionary imaging technology that is said to be finally arriving on Windows Phone.
The Lumia 920 should be the first WP PureView phone and it's expected to sport the gorgeous design you've seen first on the Nokia N9 and Lumia 800, but with lively new colors. The Lumia 820 will be a more affordable option.
And we wouldn't be too shocked if Nokia surprises us with another new device it has managed to keep a secret. So go ahead and check out the live streaming and our live blog of the event below.