Watch John Legere bash T-Mobile's rivals with new versions of classic holiday songs
18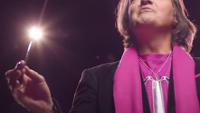 T-Mobile CEO John Legere has been known to go after the carrier's rivals in a special Holiday video. Two years ago, when the executive was first starting to cultivate T-Mobile's image as a innovative, exciting and up and coming mobile operator,
Legere posted a Christmas Vine
. Dressed as Santa, Legere put coal into the stockings belonging to Verizon, Sprint and AT&T.
Two years later, Legere has proven that the Un-carrier shtick was genius. If inspiration comes from desperation, you can see how the idea was born. Mired in fourth place among the major carriers, Legere ditched the suits, grew his hair and shook up the wireless industry. Obviously not one to sit on his laurels, T-Mobile's CEO has become a celebrity. And while some of his notoriety is from self promotion (you'll know what we mean if you follow him on Periscope), the truth is that he has done quite a job with the nation's third largest carrier. Verizon and AT&T might not be worried, but the truth is that the top two mobile operators in the U.S. have copied some of T-Mobile's more innovative moves.
For this year's holiday greeting, Legere conducts a Christmas choir singing the classics, but with a twist. The lyrics have been given a Legerian revision. For example, to the tune of
Santa Claus is Coming to Town
, the choir sings "Oh, you'd better not gouge, you'd better not scam, Death Star and Big Red we're hip to your sham, Un-carrier is coming to town." You get the idea.
You don't have to be a fan of John Legere, or a T-Mobile subscriber, to get a laugh from the clip. If you need to lighten the mood a bit, click on the video below.
source: T-Mobile