Watch John Chen use the BlackBerry Passport on video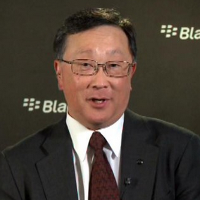 BlackBerry fans haven't really been used to this. The company has a smartphone that is so intriguing, that fans of all platforms are interested in the device. We're talking about the BlackBerry Passport. Expected to launch in September, the Passport offers a 4+ inch square screen with resolution of 1440 x 1440. A quad-core Snapdragon 800 powers the phone, which has 3GB of RAM inside, a 13MP rear snapper, and a whopping 3450mAh battery inside. Yes, this is an honest-to-goodness top-shelf model from BlackBerry.
More intriguing is the unique QWERTY keyboard on the phone. First, some history. After Steve Jobs introduced the OG Apple iPhone in 2007, BlackBerry executives felt that the public would never adopt to typing on glass. "
The most exciting mobile trend is full QWERTY keyboards. I'm sorry, it really is. I'm not making this up
," said then RIM co-CEO Mike Lazaridis in May 2008. BlackBerry wanted the typing process to feel so real, that it came up with its SurePress typing system for the
BlackBerry Storm
. The idea behind SurePress was to make typing on glass feel like typing on a computer keyboard. Unfortunately, for BlackBerry, the idea didn't translate well to the smartphone.
But BlackBerry appears to have another unique take on the QWERTY keyboard with the Passport. There are no number keys or punctuation keys. Apparently, you will type on the keys for letters, and swipe over them to input numbers and punctuation.
How would you like to see this intriguing handset in action? We have a video showing BlackBerry CEO John Chen giving a quick 15 second demonstration of the BlackBerry Passport. To view it, just click on the video below.
source:
BlackBerryVietnam
via
Crackberry