Washington D.C. becomes home to Apple iPhone muggings
1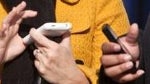 Washington D.C. is known for the White House, the Lincoln Memorial and the Washington Monument. Now, it is also becoming known as the place where Apple iPhone users are terrorized by muggers who are aiming to snatch the touchscreen device from distracted users. The iPhone has become a treasured prize for muggers, similar to the way that Nike's Air Jordan sneakers were considered a major prize for strong-arm robbers years ago. As an example, one alleged mugger was busted and the cops found 6 stolen Apple iPhones in his car.
Matthew Klein, the commander of D.C.'s Second District says that iPhone muggings have been a major problem this year, even pointing out that during one weekend last month, there were 4 such robberies at one small intersection. In each case, the victim was talking on the phone or holding it in his hand while walking down the street. This gives the thief the ability to sneak up on his prey and grab the element of surprise. But walking down the street keeping the phone hidden is hard to do. Most people with a smartphone have a habit of using it no matter the location or activity. Even D.C. Police Chief Cathy Lanier, who uses a BlackBerry, says that using the phone while oblivious to her surroundings is something that she is guilty of doing.
After the recent batch of muggings, Klein sent out an emailed reminder list for those with Apple iPhones to follow. He suggests that people remain aware of their surroundings while walking and talking on the phone. He suggests not to put your handset on the table while dining. For most iPhone addicts, Klein's advice is like asking them to stop breathing. "I'm still so addicted to it," said Salem Pearce, a 32 year old who was listening to her Apple iPhone using earphones outside a mall when a would-be thief grabbed the earphones but missed her handset. She still owns her phone, but the incident has left her shaken. Has she stopped using the phone while walking around? Not yet.
Ronald Pavlik, Deputy Chief of the Metro Transit Police says that most iPhone snatches occur near a bus or train door. Pavlik calls it a "Crime of opportunity". Many victims would say that the opportunity belongs to AT&T or Apple by trying to sell you a replacement at the full non-subsidized price. Some have found it cheaper to pay the $175 charge to walk away from their contract, open a new account and buy another subsidized Apple iPhone. But even that strategy amounts to paying a lot of money. The best way to avoid something like this from happening to you anywhere is to keep your phone hidden and be aware of your surroundings and the people around you.
source:
TBD