Want some stylish stylus action for your Samsung Galaxy Note 4? Montblanc has you covered
17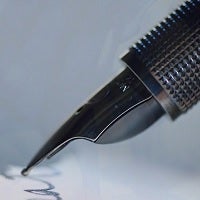 Samsung is stepping up its game with some premium accessory partnerships, among them Montblanc, a company known for premium writing implements, leather, watches, and other luxury fashion accessories.
Since its beginning in 1906, the German based craftsmen have been making upmarket pens, and to this day, they, along with Montblanc's trademark white star logo on the top, are recognized as a standard bearer of fine writing instruments.
Thankfully, Montblanc has also advanced with the times, and has not relegated its product line to a world of ink-only fountain and ball pens. The company has accessories for iPad users, and also has a stylus series for other tablet applications, called StarWalker and Pix.
Now, on the advent of the release of the
Galaxy Note 4
, Samsung is pitching some luxury accessories for its class leading phablet. In addition to a Montblanc Extreme leather cover for the Note 4, the StarWalker stylus enhances the experience with some exclusive digital content and writing features for the entire Galaxy Note series. Montblanc users can use an "e-Refill" cartridge to convert their existing piece to a Galaxy Note stylus.
The Montblanc pieces are not something you will see on the clearance aisle at Best Buy as you might expect. The Montblanc Extreme cover costs $245, the StarWalker and Pix stylus pieces start at $350 for the basic Pix (rollerball model), and exceed $1,200 for the StarWalker Ultimate Carbon.