Want Android Auto in your car? You'll need the Hyundai Sonata 2015
30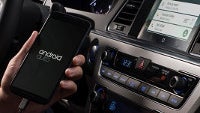 While in-car entertainment systems have definitely made some progress in the past decade, it wasn't until recently that we started seeing traditional manufacturers finally giving in and considering tapping into the expertise of companies that do UX for a living — like Apple and Google. Back in 2014, both companies promised to bring a smartphone-first experience to cars with CarPlay and Android Auto, respectively, and now, in a first for the US, Hyundai will be finally selling actual vehicles that come with one of the systems standard-fitted — Google's.
The first model from Hyundai's portfolio to receive the Android treatment is the 2015 Sonata — its flagship car. The model is actually already available for purchase, so only newer units will come with the update pre-loaded, while existing owners can get their system updated with Android Auto support at any local Hyundai dealership. Later this summer, the car maker will make the update available on its web site, so any owners will be able to simply download the new software onto a USB stick and update their vehicles themselves. The operating system is be operable through steering wheel controls, touch, and voice.
Before you get excited, however, keep in mind that Android Auto requires an active connection between your smartphone and your car's system over microUSB, and more importantly — an Android device with the Lollipop update. Seeing as the latest update is
still to make it to more than 10% of all Android devices on the market
, there's a decent chance that you'll either have to sit tight until you get yours, or upgrade to a newer device that comes with the update out of the box.