Walmart's Family Mobile plan for T-Mobile has been upgraded to include unlimited data - throttled speeds though
9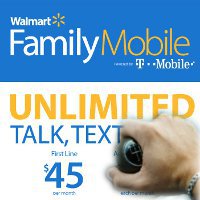 We all love the notion of getting more bang for the buck, but when it comes to the world of wireless, there's usually some kind of catch behind it all.
When we think of retail giant
Walmart
, the first thing to come knocking into our minds is obviously savings, which is something that they're known for throughout the land.
Back in September 2010
, Walmart introduced us to its
T-Mobile partnered Family Mobile Service
that brought unlimited talk and text for a mere
$45 per month
for the first line – with each additional line of service priced at $35 per month.
Considering that data consumption is something we perceive to be commonplace nowadays, it's nice to see that
unlimited data
is now included with Walmart's exclusive Family Mobile Play – though, it's technically
throttled
after 250MB of consumption. Yeah, it's nice that you'll be surfing at 3G speeds up to that amount, but after that, some people will be left twiddling their thumbs away waiting for things to load.
Despite that problem, there's actually a way for customers to gain 3G speeds up to the 5GB mark for some brief time. Specifically, they can take advantage of a special promotion from T-Mobile right now that offers just that, but you'll need to sign up for the plan before March 16 to get 5GB of data under 3G speeds until March 31st. However, if you wait after March 16 to sign up, just expect to be given a paltry 250MB of data on 3G speeds.
source: T-Mobile &
Walmart