Wal-Mart enters the postpaid market with their Family Mobile service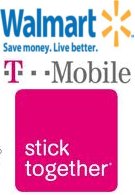 The world's largest retailer is getting its feet wet in the wireless business a bit more than usual after the company announced their intentions of launching their own branded mobile service. In the back end, Wal-Mart's Family Mobile service will be relying on T-Mobile's infrastructure to support their offering. Essentially customers would pay $45/month to receive unlimited phone calls and texting while packing on additional lines will incur a $25/month charge.
Considered as a "postpaid" plan at its core seeing that customers are required to pay their bills at the end of the month, this greatly steers away from the usual prepaid plans we see that are paid upfront before using the service. Now what makes Wal-Mart's Family Mobile service unique is its not postpaid-like nature of requiring a contract and issuing early termination fees – plus customers don't need to go through a credit check.
There will be 5 devices available when it debuts next week – which will also include smartphones. As of right now, the Motorola CLIQ XT will be one of those handsets available and will retail for $249 while an inexpensive Nokia handset will also be up for grabs at $35.
source:
AP