Walmart to sell Apple iPhone 5 for $127 starting December 17th
30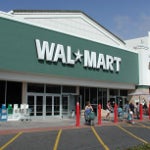 Topping recent deals for the
Apple iPhone 5
from
Best Buy
and
Radio Shack
, Walmart is planning on cutting its price for the Apple iPhone 5 to $127. But hold on, put your car keys down. The deal isn't set to start
until December 17th
. And it isn't just the Apple iPhone 5 being discounted either. For just $47 you will be able to purchase the
Apple iPhone 4S
and the
third-generation Apple iPad
will be priced at $399. Of course, you will need to affix your signature to a two-year contract for the handsets.
Tar-jay
Target is getting into the game with a discounted Apple iPhone 4S for Virgin Mobile. Starting December 16th, the price of the 16GB model will be cut from $499.99 to $399.99. That is an off-contract price, of course.
It seems that when it comes to getting a great discount on Apple products this holiday season, if you're patient, the deals will come to you.
source:
Slashgear