Wall Street banks dropping BlackBerry for BYOD, but BES12 keeps the company relevant
11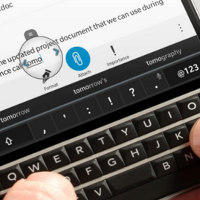 Even though billions of dollars go through Wall Street every day, the banks and brokerage houses are in budget-cutting mode. And that means that a number of the financial institutions that handle stock, bond and currency transactions are dropping BlackBerry and allowing employees to bring their own device.
Business Insider
has learned that J.P.Morgan is asking its staff to return all BlackBerry handsets provided by the bank. The phones are supposed to be returned over the next 6 to 12 months.
Credit Suisse has already received all of the 'Berrys that it had passed out to its employees and Citicorp is following suit. To keep communications secure, many of the firms are telling staff to install the Good Technology email app on the personal smartphones now being brought into the office. Breaking into Good Technology's email offering requires that someone crack the password used on a mobile device sporting the app, and then crack the app's own email password.
While Credit Suisse originally followed Citicorp and J.P. Morgan by retrieving company owned BlackBerry phones and suggesting the Good Technology email app, it now plans on using Citrix Worxmail. One employee of the Swiss based bank says that "
we used to have 16,000 Blackberries and now we have 4,000. 82% of our staff use their own devices
."
Smaller financial institutions are also kicking the BlackBerry habit and are adopting BYOD. But all of this still plays into BlackBerry's strength since the latest version of its MDM, BES12, can monitor a fleet of handsets powered by iOS, Android and Windows Phone in addition to BlackBerry. It just so happens that the Good Technology email app is one of the 80 iOS and Android apps secured by BES12. BlackBerry says that the number of Berry handsets used by these banks is not important since many of the institutions rely on BES12 to monitor employees' phones, even those owned by staff.
"BYOD is a core strategy for BES12, BlackBerry's EMM cross-platform solution. BES12 seamlessly supports iOS, Android, Windows Phone, BlackBerry OS and BlackBerry 10 smartphones and tablets, as well as a wide range of Samsung KNOX and Android for Work smartphones and tablets.

Any notion that we have fewer devices deployed within one organization or another misses the point. BlackBerry manages all major mobile platforms and does it more securely than our competitors. And with our Secure Work Space solution, we also secure more than 80 iOS and Android apps for enterprise customers, more than other MDM vendors (including Good Technology).

BlackBerry's device and software strategy is focused around offering the most secure end-to-end mobile infrastructure. That means developing the most secure devices as well as the most secure management software and network. That's why some of the largest banks, global leaders and all G7 governments choose BlackBerry."-BlackBerry
BlackBerry, often criticized for not using the latest chips and hardware for its phones, was smart enough to know that once BYOD was implemented, employees would run for handsets made by the competition and made sure that BES12 would support these other platforms. BlackBerry's only worry at this point, would be a long running bear market that would force banks and financial institutions to wield a larger and sharper ax aimed at BES.
source:
BusinessInsider