Wall Street & consumers have high expectations for Apple's unveiling this Monday
8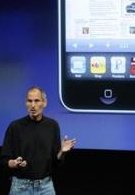 Both Sprint and HTC can claim victory for the upcoming weekend as the HTC EVO 4G, with all of its multimedia prowess, is set on launching with 4G connectivity on board to make it the sole handset to bring North America into the 4G era. HTC has been on a roll of late as we've seen the HTC HD2 become the staple Windows Mobile handset for the last couple of months and the HTC Droid Incredible also a hit for Verizon's customers. With that in mind, Monday morning will eventually be here where it's expected for Apple to blow away the mobile community with its official unveiling of the next iPhone. However, there are going to be plenty of eyes watching the events unraveling to see if it is enough to wow Wall Street and consumers.
The many incarnations of the Apple iPhone have proven to become a huge success on a global scale as the iPhone increasingly climbs the smartphone market ladder as they close the gap between Apple and RIM. However, depending on how Monday plays out, Apple's growth will undoubtedly be measured on what new innovations they'll be showing off with the latest iPhone. Google's army of Android smartphones have proven to become the biggest competition for the iPhone as many manufacturers have jumped on developing their own models. Despite the resounding adulation that will be accompanying the unveiling this Monday, Apple will need to focus on the long-term goals in growing their piece of the pie.
Investors are looking squarely at how Apple intends on branching out the iPhone to new markets such as China and even domestically here in the US – so far AT&T has managed to keep a firm grip on it which can hinder additional growth that Apple is looking for. Finally, the last area that will be looked upon by Wall Street and consumers will be its pricing and what aggressive stance they'll take with the new and existing models. Even though we've gathered some of what is to be expected from all of the leaks surrounding the next iPhone, we won't have to wait long before we'll be wowed by all the new things seen with the highly anticipated smartphone.
Apple iPhone 4G Preliminary Specifications
source:
Reuters