WSJ reconfirms that the next iPad with a high-res display will be postponed for early 2012
9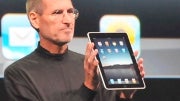 We reported the other day that the all-powerful "supply chain sources"
indicate a delay for the iPad 3, iPad 2 Plus
, or whatever the next Apple tablet gets to be called.
The slate was supposed to appear for the holidays, and now WSJ reports that its sources confirm components are coming in the fourth quarter for 1.5 million initial units, and the iPad will start to sell in early 2012. A small batch of those components has already been shipped for testing purposes.
Double the current resolution
was also reconfirmed, at 2048x1536 pixels, indicating once again that the rumors this is an iPad 2 Plus version, with high-resolution screen aimed for graphic designers and other brethren from the order of visual labor, might hold water.
The main reason for the delay is said to be the screen, of course, with Sharp's new technology coming too expensive, and LG or Samsung unable or unwilling to supply adequate display yields with the quality Apple demands.
source:
WSJ