WSJ: With autoplay available for iOS and Android browsers, expect to see more video in the future
5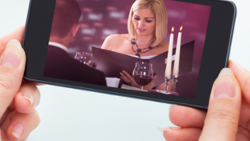 The latest versions of iOS and Android allow the browsers on both platforms to automatically play video inside web pages, as long as the volume is muted. The changes to both mobile Safari and Google Chrome could lead to higher consumption of data for users, who will be forced to foot the bill to have ads thrown in their faces. The mobile Safari browser was enabled for autoplay with iOS 10,
which was disseminated by Apple starting on September 13th
.
Chrome received autoplay capabilities
with the September 7th update to Chrome 53
.
Unless you are on a plan that provides unlimited video streaming (like T-Mobile One or Sprint's Unlimited Freedom), you could end up paying more money just to be pitched a product or service. Jeroen Wijering, head of product at online video technology provider JW Player, warned iOS and Android users that "If you're visiting a lot of sites with autoplay video, then the bandwidth bill will be coming after that."
While video platform companies JW Player and rival Brightcove are already experimenting and testing this new feature, other major video publishers like ESPN and CNN have not started using it. But the bottom line is already clear. Albert Lai, CTO of Brightcove says, "I think this will result in an increase in video plays and video use in general."
"This could be a big deal for web video. I think when people start adjusting their video players and websites there will be a significant uptick for publishers in terms of video plays."-Jeroen Wijering, head of product, JW Player.
What is unknown is how the new feature can be monetized. On desktop screens, videos on auto-play are often preceded by ads. But the technology to do this might not work on mobile. Additionally, advertisers might not want to pay for an ad where the volume is going to be muted. Others see advertisers getting around this by using creative solutions.
source:
WSJ