WSJ: T-Mobile and Sprint have worked out the broad outline of a deal
12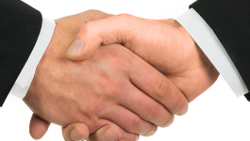 While T-Mobile and Sprint have yet to announce their oft-rumored merger, this morning's
Wall Street Journal
says that the broad outline of the deal has been drawn up. With both carrier's canceling the post announcement conference call that is traditionally held after every earnings release, analysts now expect an announcement to either be imminent or further delayed. The WSJ says that both sides have agreed on an all stock transaction, and T-Mobile parent company Deutsche Telekom will be the majority owner of the combined operation.
Charismatic executive John Legere, the president and CEO of T-Mobile, and the architect of the company's amazing recent success story, will run the merged T-Mobile-Sprint. The chairmen of T-Mobile and Sprint's parent companies will be co-chairmen of the board. That would be SoftBank's Masayoshi Son and Deutsche Telekom's Tim Höttges. There will be no cash break up fee. If regulators put the kibosh on the deal, T-Mobile will give Sprint a deal that will allow the wireless operator to use T-Mobile cell towers to cover gaps in the carrier's wireless footprint.
Back in 2014, the FCC and DOJ made negative remarks about a possible combination of the two carriers which led T-Mobile and Sprint to end merger talks. Back then, Sprint would have been the acquirer. T-Mobile has since become the fastest growing and most innovative wireless operator in the U.S. under the leadership of Legere, who has arguably become the face of the industry in the U.S. In 2015,
T-Mobile leaped over Sprint to become the third largest carrier
in the country. A combined T-Mobile-Sprint would close in on the number of AT&T subscribers and could challenge Verizon for the number one spot in the U.S.
Currently, T-Mobile has a market value of $51 billion, compared to Sprint's market cap of $28 billion.
source:
WSJ