WSJ: Mobile device use on take-off still months away
1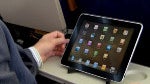 Washington law makers and regulators have already given two thumbs up for extended use of mobile devices like
tablets and e-readers
during taxi, take-off and landing of an aircraft. Still, it might be some time before passengers will be given the chance to play
Words With Friends
on their Apple iPad while a plane is repealing the law of gravity. The FAA has received a draft of a report from an advisory panel that confirms that using electronic devices on a plane under 10,000 feet up is safe. A recommendation on cellphones is not included in the report because the advisory panel was not asked to provide one.
But the report also says that it could take months for the FAA to test each individual airplane to see which models are open to potential electromagnetic interference from personal electronics used by passengers. The draft does not list any time schedule as to when the current ban might be lifted. Even once the FAA decides to relax the rules, time must be made to train crews on the new rules, to educate the public, and to coordinate the rules with foreign agencies.
The final report is scheduled to be received by the FAA in September, and by the time it lands on the agency's desk, there could be changes in the new regulations or the speed at which they will be implemented. The current thinking is that redundant systems on board an aircraft make the chance of interference from a personal electronic device small. The document says that the rule changes will be made in phases.
The draft also cited a survey that showed that
less than 60% of airline passengers turn off their electronic devices
when told to do so by the flight crew. Passengers also seem confused by new FAA regulations that allow pilots to
substitute the Apple iPad for heavy paper maps and charts
.They hear that pilots can use a tablet in the cockpit during all aspects of a flight and wonder why they can't do that.
source:
WSJ