WSJ: Google Assistant will use comedy writers to make you laugh
8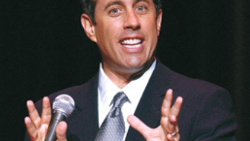 If the human interactions that you are experiencing every day are not enough to keep your laughing muscles in shape, Google Assistant may turn out to be the workout that you need.
The Wall Street Journal
(not exactly a laugh riot itself), wrote today that Google is paying comedy writers who have written for Pixar movies and satire site The Onion, to provide jokes for the virtual assistant.
Of the three voice activated personal assistants found now on smartphones and tablets, Google Now has the least personality. Ask Siri to tell you a joke and she's apt to say, "How many iPhones does it take to...OK, never mind." Cortana also has been programmed to tell a corny joke or two. Ask Google to tell you a joke and instead of trying to tickle your funny bone, the virtual assistant will send you links to joke sites.
With much more personality than Google Now, Google Assistant will make its debut with the
Google Pixel
and
Google Pixel XL
. Both handsets will be available in stores and online starting on October 20th. Until then, you might have to get your daily fix of humor by reading the funny pages in your local newspaper, or by watching
The Impractical Jokers
on Tru TV.
source:
WSJ