WSJ: Apple iPhone assembler Foxconn offers $5.3 billion for Sharp
12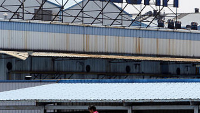 Foxconn is the contract manufacturer that is known for assembling the Apple iPhone as well as other well known devices. According to a report in today's
Wall Street Journal
, the company has offered $5.3 billion for Japan's Sharp. But there could be more than one suitor for the troubled electronics firm. An investment fund controlled by the Japanese government, Innovation Network Corp. of Japan, is expected to bid $2.5 billion dollars for Sharp.
Sharp produces display panels for mobile devices including Apple products, and INCJ already has control over Japan Display. Both Sharp and Japan Display are said to share technology about next-gen panels and production techniques. Add to that the thought that the Japanese government would rather that a foreign outfit not buy one of their major tech companies, and Foxconn might not end up with Sharp even if it outbids INCJ.
Foxconn had originally planned to buy a 10% stake in Sharp back in 2013, but the latter's falling stock put an end to that deal. And things have only gotten worse for Sharp since then. The company, which makes consumer products like televisions in addition to display panels, must repay $4.4 billion in loans during March. The money is owed to Japanese companies including Mitsubishi UFJ Financial Group Inc. and Mizuho Financial Group Inc. Whoever buys Sharp will have to keep that debt repayment in mind.
Blaming a drop in Chinese smartphone sales, Sharp reported an operating loss of $215 million during its last six month period. Still, Sharp's knowledge of the display panels market could be useful to Foxconn. And if the contract manufacturer ever wants to sell directly to the public, the Sharp brand is one that is well known in Asia, Europe and in the U.S.
Foxconn has told worried Japanese officials that if it buys the company, it won't make any changes to Sharp's top management. Sharp is expected to make a decision on its future when it releases its next earnings report on February 4th.
source:
WSJ