WSJ: Apple iPad Pro to come with USB 3.0 port, rapid charging, and optional keyboard
27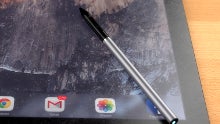 The Wall Street Journal today reports an extremely surprising development about the upcoming 12.9" iPad Pro. While confirming that production of Apple's largest tablet to date has been pushed to indicate a fall, instead of a spring release, which was
already tipped by Reuters
, the WSJ adds another curious tidbit.
It turns out that Apple is thinking to go with the flow, and include a good ol' USB 3.0 port on the tablet, which would be really earth shattering, given Apple's knack for proprietary connectors. "
Apple has continued to rework some of the features of the larger iPad. It is now considering the faster technology for data synchronization between the larger iPad and other computing devices
," tipped the insiders. "
Apple is also working on technology to speed up the iPad charging time, but it remains uncertain if the final design will have these new features
."
Now, whether the USB 3.0 port will be in addition to the Lightning port that Apple's new tablets are equipped with, remains to be seen, but apparently the iPad Pro will also have optional keyboard and mouse, too. These alleged changes, together with the
rumored stylus that Apple is said to supply with the tablet
, pour more water in the rumor mill that pegs the Apple iPad Pro as a more professionally-oriented device than the consumer-centric Apple slates so far. In the meantime, check out these 3D renders of the iPad Pro from the venerable Martin Hajek, made before the USB 3.0 port rumors kicked in.