WP7 camera settings reverting back to default isn't a bug, but a feature apparently
11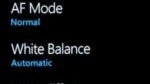 It's hard to imagine that something that's causing so much grief on a phone for owners is considered to be a feature as opposed to some nasty bug. Well, for anyone that's used a Windows Phone 7 smartphone, they know all too well how annoying it can be to find the
camera app reverting back to the default settings
whenever the app is launched.
Although some were hoping to see this thing addressed in the upcoming
major software update coming in March
, it appears that it's not going to happen because it's not actually deemed as a
bug
– but rather, it's stated as being a
feature
! Call it crazy or whatever, but it's hard to fathom or believe that having to constantly change the camera settings to fit your needs is a feature – it's more of an annoyance.
However, senior marketing manager on the Windows Phone Communications team, Brian Seitz, had something interesting to say about the whole thing. He said in a posting in response to a question, "Thanks for the feedback vanmardigan. Regarding the camera settings: it was a decision by the team thinking that if you pulled the phone out to take a quick pic, it would be better to know it was always in a default setting rather than having to remember what the settings were the last time you took a picture, so shooting for predictability. That said, feedback from folks like you has the team seriously looking at that option to see if there is a more optimal option. Thanks again.
Granted that he didn't allude to any confirmed "fix" on the horizon, it still nonetheless brings hope that Microsoft will address this thing down the road in some way or another.
source:
Windows Team Blog
via
WMPoweruser