Vizio shows off new HD smartphones for China
2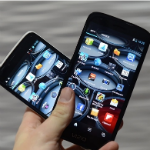 Vizio hasn't been successful in bringing a smartphone to the American market, but it has some devices available in Asia, and it has just announced some more HD smartphones for China. These are pretty nice looking handsets, and if they work as well as the spec sheets would suggest, we'd like to see Vizio take another shot at the American carrier system.
Vizio is showing off two new smartphones that will be released in China, but could also run on AT&T's 3G network in the US. No LTE though, sorry to say. Maybe the best part about these devices is that
both run stock Android Jelly Bean
, no customization at all. The high-end model is a 5-inch 1080p device with a dual-core 1.5GHz Qualcomm processor and 2GB of RAM. The lower-end device is a 4.7-inch 720p device with a 1.2GHz dual-core MediaTek chip and 1GB of RAM. Both devices have dual SIM slots.
Both are nice looking handsets, but Vizio CTO Matt McRae admits that it is easier for the company to sell directly to customers in China, and it doesn't seem like the company has plans to try again in the US.