Visidon Applock adds facial recognition security to your Android device
16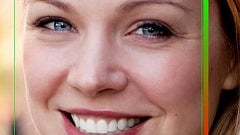 If you have an Android device with a front-facing camera, then this app is a must-have. Visidon Applock allows you to
secure any app on your device
with facial recognition software. And aside from feeling like a secret agent, it will allow you to protect your sensitive apps, while avoiding the hassle of constantly inputting passwords.
We want to be clear: Visidon Applock
will not protect your lockscreen
. But it will allow you to protect anything within. The video below appropriately suggests that you protect the Visidon app itself. It wouldn't do much good if people could turn it off.
Besides protecting your info from snoops and suspicious spouses, Visidon Applock is also
good for parents with small children
. You can let your kid tap away at their favorite Android game, without worrying that they are sending nonsensical emails or texts to your coworkers.
Just in case you're in a dimly lit area, or you're wearing a Halloween mask,
there is a passcode bypass
for the facial recognition. And what's the best part about Visidon Applock? It's free!
source:
Android Market
via
Engadget